Every student passing from school to college must have required a decent laptop. It becomes a little bit difficult for many of us to choose best laptop for college students to fulfill their necessities.
Don't worry either you are a student or purchasing the laptop on behalf of a student. Here we have to share some quick tips that will definitely help you to make your choice right.
Before buying a laptop it a little bit confusing for every student that what specifications are suitable to fulfill their need. If all this also happened in your case, be sure; these tips will definitely help you to choose the best laptop for college students with suitable specifications for you.
Processor
A processor is just like the 'brain' of a system. A laptop's performance hugely affected by its processor. There are lots of processor models are available which are mainly developed by companies named Intel and AMD.
Let's understand various models in detail..
Intel processor models are like:- Celeron, Core i3, Core i5, Core i7, Intel Xeon etc. These processors have different generations i.e First, second, Third….so on. So always choose the processor having the latest generation.
Intel Celeron processor is used in entry-level laptop models which are less expensive and may be used for general purpose operations like internet surfing, Text editing, watch movies etc.
Intel Core i3 processor is the medium level processor. Performance is much better than the Celeron processor so the price is also high. It has basically two cores. So it can perform various operations with satisfactory performance at a reasonable price.
Intel Core i5 processor is the mainstream model which can be used for any kind of work. It provides the best performance at the effective price. I'll personally refer the i5 processor over the Intel i3.
Intel Core i7 processor is the best suitable for the high-end operations like graphics design, video editing etc. Because it has much solid performance than the i5, so its cost is also very high.
AMD Ryzen Mobile: These are the new set of chips that are designed by AMD to compete with Intel Core i5 and Core i7.
AMD A, FX or E Series: These processors found on low-cost laptops, the company calls them APUs rather than CPUs, provide decent performance for the money that's good enough for web surfing, media viewing etc.
Right Size – Best Laptop for College Students
The size of a laptop (or its screen) will directly concern with its weight and price. Common sizes for laptops usually start at 11 inches and continue up to 17 inches.
11 to 12 inches:
Small Size
Light Weight
Best for mobility
Best for basic tasks like web browsing, word processing on a strict budget.
13 to 14 inches: Provides the best balance of portability and usability.
15 inches:
Good balance between mobility, performance, and price
Probably find more features you want, such as more ports, an optical (DVD or CD) drive, and Long battery life.
17 to 18 inches: If you want to replace your desktop with a laptop, a 17- or 18-inch system could provide you with the solid processing power you need to play high-end games or do workstation-level productivity.
I consider any laptop size up to 14-15 inches is best laptop for college students as laptops with these sizes are easy to carry and have nominal weight.
Choose the Right Operating System
There are mainly one of the three types of operating system is used in a laptop. These are Windows, Chrome OS, and MacOS, from which the MacOS is specially used in Apple's MacBooks. Let's know more about these operating systems to make the decision making more convenient to choose best laptop for college students:
Windows: Windows OS is a product owned by Microsoft Corporation. More than 90% of computer systems or workstations around the world, use the Windows operating system. Windows platform has millions of applications and can support any type of hardware specifications. Due to its versatility, windows is the best option to fulfill the needs of any kind of work like music, editing, graphics processing etc.
Chrome OS: Chrome OS is specially designed to run over the Chromebook laptops. It is a light-weighted operating system can be presented as the stripped-down variant of the Linux. A Chromebook is designed, primarily, to be used with an internet connection. Many of its applications run, and their data is stored, in the cloud.
Mac OS: Mac OS is specially designed to run over the Apple's Computer's Macintosh line of personal computers and workstations. Mac OS can't be ported or installed with the laptops of another brand. It also supports millions of applications with the very high rate of quality. It is the best option to perform any kind of video editing or 3D graphics work.
Battery also matters
Before selecting a laptop model, also keep in your mind that it must have minimum 7 to 8 hours of battery backup. Laptop's battery backup may vary according to its working or processing, As only web surfing through wifi over the system gives more battery backup than playing the games.
Many of the today's laptop models may support battery backup of more than the 10 hours.
2 in 1's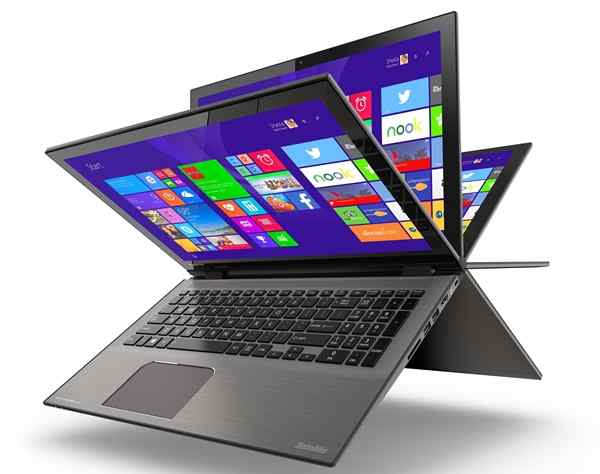 2 in 1's are basically a range of laptops with touchscreens which can also be used as the Tablets. There are two kinds of hybrids: laptops with lids that flip back 360 degrees, and detachable tablets.
Most of the students do not have many requirements for the touchscreens, besides some of the assignments. So they can go for the traditional normal type of Laptops.
Keyboard & Mousepad
Keyboard & Mousepad quality and type, plays an important role in the smooth use of a laptop. The laptops having size more than 14 inches have mostly the Keyboard with the separate set of numeric keys. It facilitates the users to perform operations like mathematics calculations much easy.
Mousepad of the laptop is also equally important. It should response smoothly. Mousepad with the multitouch gesture supports a feature like pinch-to-zoom.